56 Faces is a new photo-textual exhibition capturing the stories of Hungarians who came to Victoria as political refugees following the 1956 Hungarian uprising.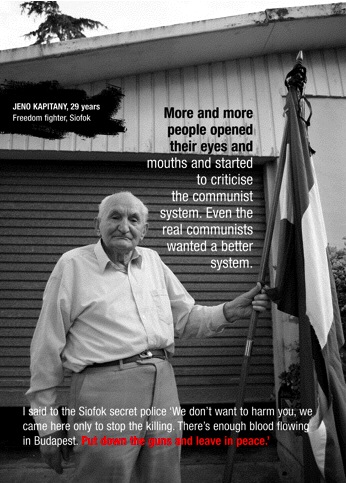 On 23 October 1956 a splendid autumn evening was shattered when the Hungarian secret police fired into a crowd of unarmed demonstrators. Hatred of eleven years of Russian oppression and a brutal secret police exploded and an uprising was born.
After five days of bloodshed, Hungarians danced in the streets as the Russians agreed to withdraw and Hungary declared an independent, neutral government. The euphoria evaporated when at 4 am on 4 November, Budapest awoke to the sound of tanks and heavy artillery and the Russians put down the uprising with a massive show of force and reinstated a communist government.
50 years on, twenty-eight Victorians explain why the uprising was a catalyst for coming to Australia, some running for their lives, others running for a better life and freedom.
Interviews by
Sandy Watson

Photographs by
Susan Gordon-Brown

Design by Dave Hughes
of Plum Publishing
---